MIG WELDING TORCH KD24
MIG WELDING TORCH
KD24
Accessories
MIG TORCH KD24
The SKANDI KRAFT MIG WELDING TORCH KD24 type MB24 is a professional tool for your semi-automatic welding machine. It is used for MIG MAG and FLUX welding. The torch is equipped with a modern ergonomic handle, which allows for easy and comfortable welding. The rubberised handle, provides a secure grip and minimises the risk of hand strain during work. The handle also has a quick-action EURO connector with spring-loaded contacts and an insulated wire guide, making it universal and suitable for use with most semi-automatic welding machines on the market.
Variants available:
| Current conductor thickness | Cable length |
| --- | --- |
| 18 mm² | 4 metres |
| 18 mm² | 5 metres |
| 25 mm² | 3 metres |
| 25 mm² | 4 metres |
| 25 mm² | 5 metres |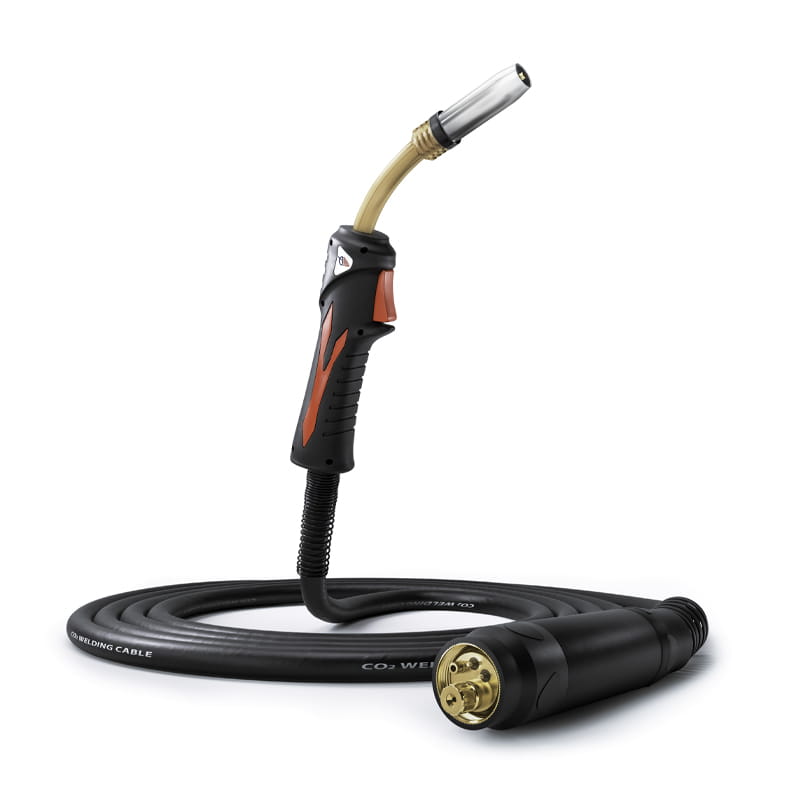 HARDWARE SPECIFICATION:
The SKANDI KRAFT® brand MIG torch is characterised by its ergonomic handle, which provides comfort when working and minimises the risk of hand strain. The troch also has very good insulating properties so that the handle does not heat up as much during prolonged work, preventing discomfort for the user due to the high handle temperature.
Bend protection spring at burner and connection
Ball joint for increased comfort and handle mobility
Conical gas nozzle Ø 12,5 mm; 63,5 mm
Gas-cooled handle
TECHNICAL DATA:
Current range [A]:00-250
Load factor in CO2/ArCO2 [A]:250/220
Duty cycle [%]:80
Wire diameter Ø [mm]:0,8-1,2
SET INCLUDES:
Welding torch SKANDI KRAFT® KD 24 – 1 szt.
Gas nozzles –5 szt.
Current switches –5 szt.
Current tips – 12 szt.(4x Ø0,8 4x Ø1,0 4x Ø1,2)
Gas manifolds – 5 szt.